Today is release day for another Writing Wenches Anthology, Beyond the Friend Zone.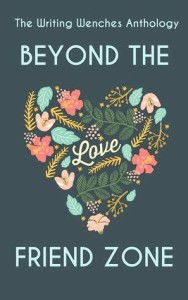 Anthology Blurb:
It's an age old story; you start as friends but end up lovers. There's just something about the trope that we readers love to read, and we writers love to write.
That is why for our new anthology, The Writing Wenches bring you a whole book of short stories that follow the friends to lovers path.
We have sweet stories and spice stories, and everything in between. Though these are not just any romance shorts, when given our theme, many of us went quirky. We ended up with nine authors guaranteed to make you fall in love with their new characters and their quirky styles.
I don't know about you, but I love the friends to lovers trope. How great is it that there are nine of those stories in this anthology? So when I asked the authors for each of their story's blurb, I wanted to know more. I wanted to know their inspiration. I always enjoy hearing author's inspiration for stories. It enriches the whole story because it's a look deeper into the author's crazy mind. (Trust me, it's crazy in there.)
Sheri Williams –  Mechanics of Love
Blurb:  When Nora's business starts to fail, she looks to her best friend Olly to help her out, but he wants to help her out of more than her business woes. Can best friends who work together also play together?
Sheri's Inspiration:  I wanted to write about small town Alabama. And I want to write a character close to how I see my husband.
A.E. Snow – A Weekend at the Lake
Blurb:  Alison lives in a tiny apartment in New York with her roommate, a reality TV junkie. As a writer and freelancer juggling projects, she's pushed her novel aside to do work that actually pays and she's stuck in a rut. When she gets an invitation to a weekend-long birthday bash for a college buddy, she accepts, hoping a few days at beautiful Lake Tahoe will inspire her. But instead of being inspired, she just feels like a failure, being surrounded by her friends whose lives seem so perfect. She begins to wonder where she went wrong with her life, but could Daniel, an old friend, help her see that the key to her success has been in her all along.
A.E's Inspiration:  My family had just spent two weeks at a friend's house that was on a river. We stayed with some friends we hadn't seen in years, and it was a blast. Throw in my summer obsession with the song Close by Nick Jonas and Tove Lo and there you have it. Daniel *may* be an older version Nick Jonas in my mind.
Maria Arell – Hannah's Folly
Blurb:  Hannah doesn't do love. Love is messy, and she can't afford her perfectly organized life to get messy. When her best friend asks her to arrange her wedding and be her maid of honor, she is forced to work close to the best man, Jake, her childhood friend and the brother she never wanted to boot. Jake has grown handsome but secretive, but he gets her in a way that no one else does. Is he worth her life getting messy?
Maria's Inspiration:  I would love to say that my short Hannah's Folly was a labor of love, but it wasn't. Quite the opposite, to be honest. The theme bothered me. Friends to lovers. How does that work? I mean, there have to be some attraction at some point in the past, right? I had this starter for a story sloshing around my open project file, and I liked the idea, but in the first version Jake had always been in love with Hannah, but never told her, for some reason. And it got too like Austen's Emma. Then the characters just wouldn't talk to me. Jake was all hush hush about his past and what was it with Hannah and her lists? Then the scene that changed everything came to me and I started liking the story, finally. Hannah and Jake began talking to me and I managed to finish the story. All is well that ends well, right?
Kay Blake – The Perfect Catch
Blurb:  Nick was my best friend, and then one night changed everything?
Natalie "Nat" has always dreamed of having the perfect man come into her life. Handsome, funny, and kind and every other romantic notation known to man to sweep her off her feet.
After the most romantic wedding she has ever been to, she goes home with her best friend Nick and they break the one rule of platonic friendship. They sleep together. 
After that night both agree to be friends and nothing else, but how can she go back to the way things were when she has always loved him?
Kay's Inspiration:  One of my favorite tropes is the friends to lovers one. Once the sign up sheet was posted, I thought, hmm, what would be the best way to tell a story that I like and everyone else would like? So I was randomly scrolling (way before I started writing the first chapter) and came across a picture of Chris Hemsworth. I was like, hot damn, he look's great, and well, he works as the perfect sexy on a platter male best friend. There you have it.
Danielle Donaldson – Just Like You
Blurb:  Natalia is the kind of workaholic that isn't afraid to brown nose the annoying boss or pick up work that isn't hers. Work-life balance? Ha! That's the funniest joke she's ever heard. Except when her boss insists on meeting Natalia's pretend boyfriend that she made up to try and convince them that she had a personal life beyond the job. What's a girl to do when she has to fill the role of pretend boyfriend? Call on her oh-so-handsome-but-totally-not-into-her childhood best friend to fill the shoes. She just needs him to pretend to be the knight-in-shining-armor for one night, but what happens when she gets swept up in the moment?
Friends listen to "Endless Love" in the dark, right?? 
Danielle's Inspiration:  The smart girl with a urge to succeed might just need to slow down and take a look around before life and the love of her life passes her by.
Suzie Jay – Coming out of the Friend Zone
Blurb:  When sexy player, Brett, realizes he's fallen head over heels for his next door neighbor and long-time friend, Abby, he tries to run away. Running is what he does best. For reasons unbeknown to anyone, he refuses to get close to anyone or make a long term commitment. Abby knows he's acting strangely and is determined to find out what he's hiding and why he's moving away.
But Brett is good at keeping secrets; he's kept this one for years. He is all set to pack up and leave when Abby is hurt and needs help to recover. Brett needs to make the decision to either stand by Abby's side and reveal his secret or run away to the safety of a new city and leave all thoughts of Abby behind.
Suzie's Inspiration:  I have wanted to be a part of a Writing Wenches Anthology for over a year, so I jumped on board. I said yes and worried about how later. I started to think about how people view love and how some people seem to believe there is only one way to love. Their way. Minds seem to close when their ideals are challenged. So I asked myself, what if they saw the love before their brain could shut down? With this thought in mind and of course armed with the theme of friends to lovers I began to pen my story. Once I got started I became so excited about it, I wrote the draft in one sitting.
Michael Simko – Last Stand
Blurb:  Palaka and Kahini are the perfect cute couple with one minor problem; they are soldiers in a military order that doesn't allow dating. The war started before they were born, but they held out hope that they'd see it end. Their wish comes true as the war reaches a breaking point. The only question is if peace arrives before they are ordered to perform a last stand.
Michael's Inspiration:  Last Stand comes from a vision of two soldiers in love who are about to be overrun. Yeah, I think of things like that. (Lol!)
Grace Ravel – Always Never
Blurb:  Bree and Rowan have been best friends all their lives. As they journey through life together, surviving love and loss, trials and triumphs, Bree finds herself falling hopelessly in love with her best friend. The problem? Rowan is in love with someone else. Is this the end of their friendship? Or will Bree continue to nurse a broken heart in silence, never speaking of her feelings? Will Rowan ever realize how his best friend truly feels about him?
Grace's Inspiration:  There was really no one inspiration for this story. Friends to lovers is a story that unfolds a million times a day all over the world. Who among us hasn't had a friend that we may at one time have given a look and went "hmmmm…" Of course, there are those who never go beyond that, staying platonic friends instead. But those who go beyond that place, I can imagine how wonderful it is to fall in love with your best friend.
In my story, Bree's and Rowan's relationship unfolds between a series of notes and texts. It reminds me of my parents and my husband. My parents, because my dad wrote letters to my mom when they were both in college–way before cellphones. I once found letters my mom wrote to my dad, and they were a lovely insight to these two people who I just eyerolled when they said or did something uncool. I felt their love through those letters. In the same way that I hope when we're old and decrepit and my kids find these old cellphones that they may gain an insight to the seemingly benign texts between my husband and I. The kind that says "What's for dinner?" which actually says "I rely on you/I'm coming home" and so much more. Or that "thank you" text which says that after more than two decades together that "I still notice the little things you do for me and I appreciate it."
I hope that I conveyed through the story, through little snippets of their conversation how precious Bree's and Rowan's love for each other is–from friends to lovers.
Colleen Myers – Missed Signal
Blurb:  A cruise, moonlight, high seas, old friends, new lovers? 
Having spent her life watching her mother throw her life away on worthless men, Kate always knew she had to be able to take care of herself , even when fate handed her the perfect man. Eight years later, nothing had changed. But fate decided to challenge her resolution and threw Sam back into her path.  And this time Sam wouldn't take no for an answer.
Colleen's Inspiration:  Mine was quick and simple. The idea originally for the anthology was a cruise story, so I started reading and remembering my own cruise story. We had to pick the type of character we had and I (of course) chose the doctor on board.  I tried to imagine what it would be like to be a doctor on a cruise and did a small tour of a local clipper. After research I hit upon my own story! I know, not dramatic and no dirty secrets.
See, told you. Crazy minds, but also some really sweet inspiration.

 I hope you enjoyed the author's inspiration and give their anthology a read. I know you won't be disappointed!
Happy reading- Jennifer